Cameron Piron, president and co-founder of Synaptive Medical, is a featured guest author in Longwoods Publishing's HealthcarePapers series. This edition (Volume 16, Number 3) is focused on "A Blueprint for Innovation to Achieve Health System Transformation." Piron's article is titled, "Key Conditions for Successful Serial Entrepreneurship in Healthcare."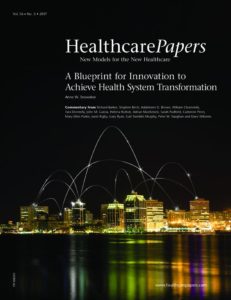 In his article, Piron explores the specific health system conditions needed to foster successful serial entrepreneurship. He writes, "Health systems and public-sector programs have vital roles to play in establishing Canada as an innovation ecosystem for global health advances." While their role is complex, Piron explores the conditions needed to support the market growth of innovative companies, including:
Access to early funding
Help navigating fiscally constrained health systems
Overcoming regulatory hurdles
Engaging physicians to support adoption
Revising funding-model reimbursement to open opportunities for innovation
Context is also a relevant factor. Piron writes, "Through Canada's burgeoning entrepreneurship ecosystem, many opportunities have opened in the medical device space, particularly in downtown Toronto, which is home to three universities, world-class hospitals and many research institutes.
"The universities create the important pipeline of highly educated talent while creating innovations that attract executive talent, both of which are essential for emerging companies to grow. With this foundation, more companies scale or are sold, money is reinvested and the ecosystem community gets stronger. This ecosystem also enables entrepreneurs and innovators to collaborate with health system stakeholders, such as surgeons, to understand key challenges that need solutions, build on those ideas and collaborate on product design and the best ways to integrate technology into clinical workflows."
This edition of HealthcarePapers is edited by Anne Snowdon, chair of World Health Innovation Network, and William Charnetski, Ontario's chief health innovation strategist.
The full text of Piron's article is available here. The full issue of HealthcarePapers is available on their website here.