Connected products designed in partnership with surgeons and hospitals
Synaptive partners with healthcare teams to understand the challenges they face both in the operating room and across the hospital. With their needs in mind, we've designed our Brightmatter™ product suite.
Our products unite surgical planning and navigation, robotic automation, digital microscopy and informatics through a uniquely interconnected, fully integrated platform that helps you access the right information about your patients when and where you need it most.
Experience fully-automated, robotic digital microscopy
Modus V™ is a fully-automated, hands-free, robotically-controlled digital microscope with advanced visualization that supports a wide range of surgical approaches and workflows.
Access tractography and enriched data with unprecedented ease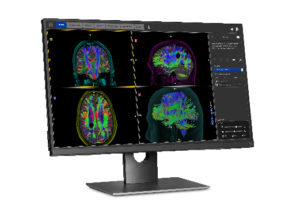 BrightMatter™ Plan automatically generates high-fidelity, dynamic, whole-brain tractography.
Obtain simple, accurate navigation incorporating dynamic tractography
BrightMatter™ Guide tracks your instruments and dynamically represents intersecting white matter tracts in real time.
Make data accessibility elementary
ImageDrive™ Clinical integrates your patient's digital footprint across the circle of care through its web-based, adaptable, multi-disciplinary data hub.
Simplify research data management and governance
ImageDrive™ easily collects, de-identifies, organizes and shares data among research collaborators, providing a secure, web-based, adaptable platform for your research programs.
Train with remarkably life-like tissue models
BrightMatter™ Simulate enables you to effectively practice and evaluate surgical approaches and workflows in an advanced simulation platform by decoupling patient risk from learning.
Capitalize on clinical biomarker research opportunities
Solais™ enables simple, high-throughput tissue analysis in a portable advanced optics research system.