Adobe Highlights Synaptive Medical's UX Process
The key role of user experience design (UX) in creating Synaptive's groundbreaking Modus V™ technology has been featured on the Adobe Creative Cloud blog.
Sheena Lyonnais interviewed Synaptive Co-Founder and Director of Informatics and External Collaboration Wes Hodges and User Experience Manager Justin Kirkey about how extensive research into how surgeons use medical equipment informed the design process for the Modus V robotic arm with high-powered digital microscope.
One central insight for Modus V's development that emerged from this user research was how existing operating room cameras used in neurosurgery required surgeons to constantly pause the operation to reposition them, Hodges said.
"In seeing this, we said, 'hey why don't we have that move for you and automate it, put it on a robotic arm?' The response from the surgeons was fantastic. 'Wow, can you do that?'"
The Adobe article, "When UX Puts Lives on the Line," describes how Synaptive's UX process uses detailed end-user research and interviews with surgeons and medical staff to create innovative solutions that solve real-world problems.
"It involves lots of clinical visits to make sure that we're understanding the clinical context, user interviews with surgeons, neuroradiologists, operating room staff, sterilization department individuals who are using many of the tools indirectly," explained Kirkey. "There is a wide slew of clinicians who are involved in this process. Understanding the ins and outs of their mental models is key to designing a successful product."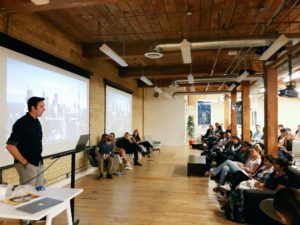 The Adobe article concludes that, "Synaptive serves as a reminder that designing a user experience always comes down to the fundamentals no matter how challenging or complex the product."
Hodges also discussed the importance of user-driven design for the development of Synaptive's BrightMatter™ product suite during a presentation at the Elevate Toronto technology festival's Lean Innovation panel in September.
"We went and found the problem first. We really immersed ourselves in the clinical environment, we worked with surgeons and they presented a problem to us that we then went out and solved," said Hodges.